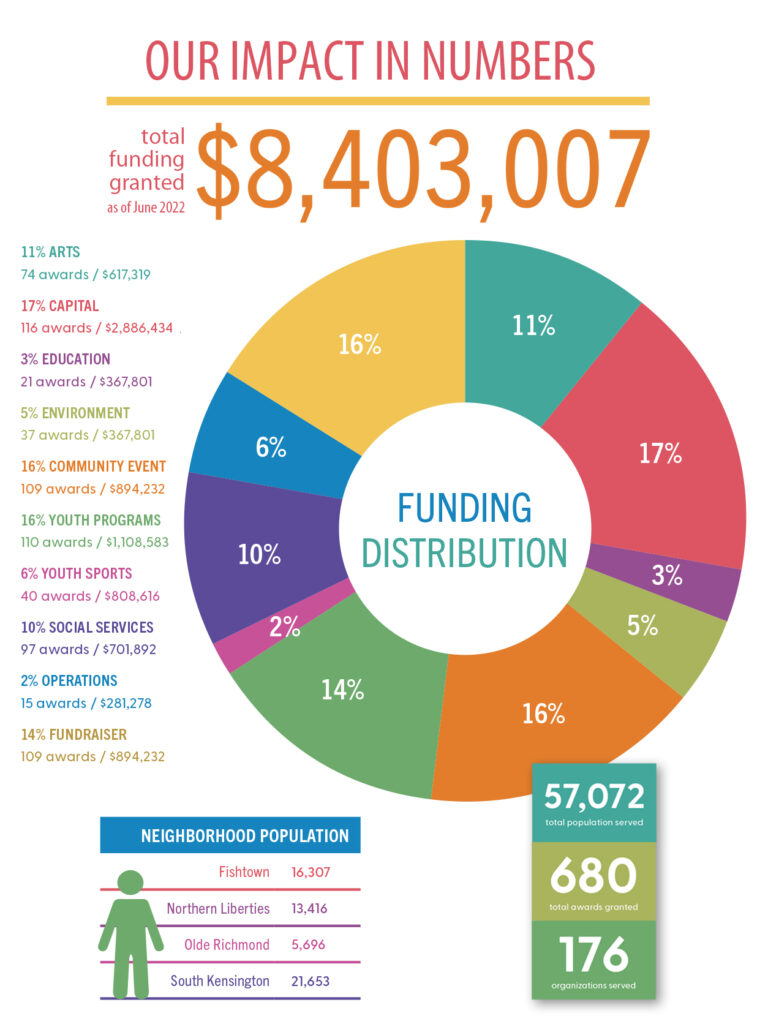 Some of your stories…
Art Sphere
More and more, communities are stretched for creative public resources. Declining education funding has forced schools to cut art programs, while shrinking budgets prevent libraries and recreation centers from offering their own visual-arts programs. To date, Art Sphere has partnered with Fishtown,  Towey, and Cione Recreation Centers, along with Penn Treaty Middle and High School to help fill the void by fostering the visual arts and developing broader skills to help students thrive with self expression, cooperation, literacy, and overall positive self-esteem.
Support from PTSSD over the past several years has been integral to our ability to present high quality arts education programs to youth and families in the Fishtown and Northern Liberties communities. Our revamped and enhanced website allowed us to create a dynamic virtual art school during the Covid shutdown and continues today, with 48 video courses, 20 lesson plan books, handouts celebrating each day of the year and a remote server all found for free on our website.

Additionally, despite the challenges of the pandemic, we were able to continue serving our PTSSD youth in person by distributing art
projects, music, and other curriculum components to parents and community centers. We provide materials in Spanish, Korean, Mandarin and Cantonese to reach new immigrant children and their families. 
— Kristin Groenveld

26th District Police Athletics League at St. Anne

Sports program offerings at the 26th District PAL include basketball, flag football, soccer, baseball, golf, and cheer and dance. Education programs like Homework Club, Computer Club, Chess and 24 Math are also offered.
The Van, donated by Penn Treaty SSD, allowed 26th District PAL kids to travel to events big and small throughout the city. Whether to golf, bowling, ice skating, or a Phillies game or the city-wide chess championships, PAL kids enjoyed broadening their experience of Philadelphia.
Neumann Senior Housing
Located at 1601 E Palmer Street, Newman Senior Housing dates back to the 1860s when it was the former St Mary's Hospital. The building has 69 private apartments that  house low-income seniors and a staff that provides  care options for elderly adults.
In 2018, the PTSSD awarded a grant that enabled the rehab and remediation of the original chapel. Resident seniors and the community now use the space for contemplation, celebrations, meditation, and prayer.

12 Plus

Headquartered at Penn Treaty High School, the ASCEND Program offers transition and persistence support to graduated students. The program is designed to provide continued support to alumni as they navigate the transition from high school to post-secondary education concentrating on students' specific needs and obstacles.
The ASCEND program is built to specifically address the issues that low-income students face in a structured and supportive manner. The goal is to provide a continuity of support from high school through the transition into post-secondary education. Help is also offered to connect students to their new post-secondary communities and the resources offered on campus.
From supporting the build out of our first college and career resource center in Penn Treaty High School to the launch of our Alumni Support program assisting graduates within the Special Services District transition into a wide range of postsecondary paths, PTSSD has played an instrumental role in ensuring hundreds of students have gained access to the opportunities they deserve.  — Raymond John, Executive Director
New Kensington CDC
Our support of the Annual Kensington Derby and Arts Festival enables participants in the Derby to enter for free. Part design competition, part parade of human powered vehicles, this quirky event brings out residents by the thousands to watch riders' valiant attempts to cross the mud-caked finish line.
New Kensington Community Development Corporation (NKCDC) is grateful for the reliable support of PTSSD to help defray costs around its annual Kensington Derby and Arts Festival, held in conjunction with East Kensington Neighbors Association. The festival has been an important way to spark economic development and promote local artists, neighborhood businesses, and the area's commercial corridors since 2007.  
— Beatrice Rider,  Member Volunteer

Fishtown Neighbors Association
With the vision of a vibrant, thriving, and unified Fishtown, and the mission to connect Fishtown neighbors, preserve Fishtown's unique character, and honor the community's shared vision for its future, the FNA conducts annual events that do just that!
Planters-At-Intersections Pedestrian Crossing Program
Meet The Neighbors Annual Cook-Outs
Neighborhood Cleanups
Summertime First Fridays at the New Kensington CDC Garden Center
Flower Power Competition
March Madness Competition
Fishtown Spelling Bee
Fish Head Trash Cans
With PTSSD funding we have been able to build out our events calendar, communicate better with our neighbors using printed materials, provide mutual-aid in the form of gifts cards during the beginning of the pandemic, rebuild the Rose Garden and activate the space for use by our neighbors, complete various safety initiatives, and so much more. We are incredibly grateful for the funding and the ability to make our neighborhood beautiful, flourishing, and neighborly.  
— Jon Geeting, FNA President
Kensington Soccer Club
With programs at Moffet and Hackett Schools, and at Towey Recreation Center as well as Saturday Intramural games, the club uses the nationally recognized Soccer For Success curriculum that incorporates health/nutrition education, anti-violence components, and mentorship along with fun soccer activities designed to build skills and teamwork. The program also trains players to become future assistants, coaches, and ultimately mentors.
Our mission is to reach out to those who cannot afford to participate in pay-to-play programs and offer them a safe, healthy, positive environment in which to learn soccer, self-discipline, teamwork, the importance of exercise and the value of setting and achieving personal goals. As a result, many of our programs are free of charge and the rest are pay-what-you can, with no one ever turned away because of inability to pay. Our thanks to the PTSSD board, and to Rivers Casino, for sharing its revenues back to the community.  
— Jim Hardy, Executive Director
Olde Richmond Civic Association (ORCA)
With support from Penn Treaty SSD, ORCA works to beautify Olde Richmond through our Green Streets program. We promote tree planting and celebrate the home gardeners who contribute to neighborhood pride by beautifying their homes and blocks.
— Rosemary Thomas, Member Volunteer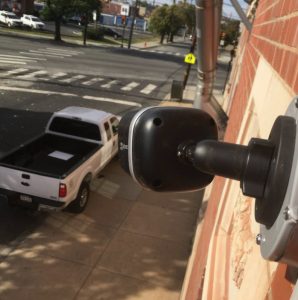 To stem the rise of crime in the neighborhood, ORCA partnered with the 26thDistrict to launch the Safe Streets Camera Installation Projectin which 200 cameras were mounted in homes and businesses. The results were a 50% cut in crime. The Light Bulb Incentive Programprovided free motion-detection bulbs for residents' homes.
Northern Liberties Neighbors Association

For more than 40 years the NLNA has been the engine at the heart of the Northern Liberties neighborhood.   Its mission is to bring neighbors together and advocate for the community.
Through its recently renovated and expanded community center the Association conducts a wide range of programs designed to enhance the quality of life in the neighborhood.  At Liberty Lands, a park acquired by the NLNA more than 20 years ago, and often referred to as the jewel of the neighborhood, neighbors have the opportunity to relax in an open green space, enjoy a children's playground, or attend one of the many events held there during the year.  The Penn Treaty SSD has provided critical funding enabling the NLNA to improve and expand both the community center and Liberty Lands. With these resources, and the continuing support of the Penn Treaty Special Services District, the NLNA sponsors the following annual programs:
Operation Santa
The Spring Flea & Music Fest fundraiser
Fall and Winter Children's Festivals
Winterfest, a neighborhood bowling party & fundraiser
E-Waste and Christmas Tree-Cycling Events
The NLNA is extremely grateful to the Penn Treaty SSD for the substantial capital project grant funding you have provided to us over the years. These investments in the future of our neighborhood enabled us to make important improvements to Liberty Lands, our community-owned park, and to the NLNA Community Center. These capital improvements provide our neighbors with additional programming space and gathering places for meetings and social events, so important for building community, while also enabling the NLNA to generate much needed revenue to help sustain our Association. — Claire Adler, President
Friends of the Doughboy
After years of advocacy to restore Over The Top, the WWI Doughboy statue in Northern Liberties, the bayonet and bronze plaque have been replaced. The plaque had been stolen years before and had the names of 400 soldiers. The names of those soldiers were provided by locals, Charles and Mildred Vessey. Mildred's father, Charles Burg, was a WWI Vet and had attended the statue's original opening ceremony in 1900. He told his daughter to keep the program that was handed out that day. He said to her, "Someday someone will want those names!"
Lutheran Settlement House
In 2014, LSH was awarded a grant to help renovate an existing kitchen into a teaching kitchen and expand their Food Pantry programs. The kitchen has been used to educate seniors and the public about cooking fresh produce. And, then came COVID-19 when traffic at the Pantry increased 300%.
During times of crisis and transition, people rely on Lutheran Settlement House as a place where they can find safety, community, and hope. Basic needs are met—food, shelter, safety—while work with our counselors and social workers help people heal from the trauma they have experienced. Our integrated services help ensure that a client at Lutheran Settlement House receives the help and support they need, all under one roof.
PTSSD has helped to transform our building, creating a more welcoming, beautiful, and accessible entrance for clients who come to our senior center, food pantry, and domestic violence services. Whether on our deck or on our grounds, we now have outdoor meeting and programming spaces for our clients and community to enjoy. In addition, when the COVID pandemic hit, PTSSD stepped up and provided critical funding to help us double the capacity of our food pantry to meet the growing need in our community.  
— David Chiles, Executive Director
South Kensington Community Partners
When the COVID-19 pandemic first hit… South Kensington Community Partners and the Arab American Community Development Corporation established a weekly free food distribution site to provide low-barrier access to essential groceries Through the Share Food Program, we received and distributed 150-250 staple food boxes each week. With additional support from PTSSD, we were able to supplement weekly offerings with fresh greens, fruits, eggs, dried beans and legumes, and rice, significantly enhancing the nutritional quality of our food offerings and making them much more enjoyable for the recipient households.
— Eileen Divringi
InLiquid
The Penn Treaty Special Services District's ongoing support of InLiquid is an investment in the robust and growing art scene in our neighborhood.
— Rachel Zimmerman, Executive Director
By My Side
By My Side is a staple of the Fishtown Community, easily serving over a thousand families with young children during our 15 years of Playgroup/Playschool & more. PTSSD has played a vital role in that, and I know many other organizations/programs feel the same way. We value and need their continued support!
— Teri Ramsay, Director
Fishtown Athletic Club

Every year with the money we receive we try to make sure our equipment is up to date, our nets, corner flags, baseball and softball bases are in good shape, we have paint to make sure all the soccer fields are lined. We make sure our coaches have soccer balls, a bag to carry them in, for baseball and softball each coach gets the correct sized balls we have score books and again all the little things that play such a big part withoutraising our fees so families can survive.
— Thomas Farrell, Director
See more organizations that have been supported over the years on our Recipients page.
—