Penn Treaty Special Services District (PTSSD) commenced operations in January 2010. After more than two years of negotiations with the SugarHouse Casino, and through the dedication and hard work of neighborhood leaders, the adjacent communities of Fishtown, Northern Liberties, South Kensington and Old Richmond are now sharing in the funding secured by our Community Benefits Agreement (CBA). The Penn Treaty SSD Board Members are dedicated to this unique opportunity to improve our neighborhoods and, if even in a small way, add to the quality of life for our families.
The PTSSD Board Members understand just how hard many of you have struggled in an environment of stretched budgets and unfortunate cutbacks. The Board is committed to being sensible, fair, and transparent when determining how to disburse these valuable funds. Below are descriptions and outcomes of a sampling of the projects and events wholly or partly funded by Penn Treaty SSD in the past.
Art Sphere
Art Sphere's mission is to engage the creative in communities, empower neighborhoods to explore the positives in peoples' lives, and heal the mind, body and spirit through art.
More and more, communities are stretched for creative public resources. Declining education funding has forced schools to cut art programs, while shrinking budgets prevent libraries and recreation centers from offering their own visual-arts programs. To date, Art Sphere has partnered with Fishtown,  Towey, and Cione Recreation Centers, along with Penn Treaty Middle and High School to help fill the void by fostering the visual arts and developing broader skills to help students thrive with self expression, cooperation, literacy, and overall positive self-esteem.
Over six hundred youths from our neighborhoods are directly served each year as well as an estimated 3000 participants in special events such as Neighborhood Cleanups,  MLK Volunteer Days,  Art Shows and Display Installations.
https://www.youtube.com/watch?v=lUrB8fTEa1Q
26th District Police Athletics League at St. Anne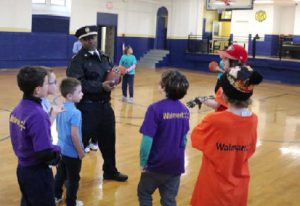 In its first year of operation, 427 girls and boys, ages 6-18, chose to spend 19,350 hours in the 26th District PAL. In doing so, they were in a safe environment and engaged in free activities that kept them out of trouble and helped develop skills and positive character traits for success in academics, athletics, and life. Truancy around the 26th PAL decreased 44% in the 1st year of PAL's operation, compared to a city-wide increase of 31%.
Sports program offerings at the 26th District PAL include basketball, flag football, soccer, baseball, golf, and cheer and dance. Education programs like Homework Club, Computer Club, Chess and 24 Math are also offered.
The van, donated by Penn Treaty SSD, allowed 26th District PAL kids to travel to events big and small throughout the city. Whether to golf, bowling, ice skating, or a Phillies game or the city-wide chess championships, PAL kids enjoyed broadening their experience of Philadelphia.

•
Neumann Senior Housing
Located at 1601 E Palmer Street, Newman Senior Housing dates back to the 1860s when it was the former St Mary's Hospital. The building now has sixty-nine private apartments that  house low-income seniors and a staff that provides  care options for elderly adults.
In 2018, the PTSSD awarded a grant that enabled the rehab and remediation of the original chapel. Resident seniors and the community now use the space for contemplation, celebrations, meditation, and prayer.
12 Plus
Headquartered at Penn Treaty High School, the ASCEND Program offers transition and persistence support to graduated students. The program is designed to provide continued support to alumni as they navigate the transition from high school to post-secondary education concentrating on students' specific needs and obstacles.
The ASCEND program is built to specifically address the issues that low-income students face in a structured and supportive manner. The goal is to provide a continuity of support from high school through the transition into post-secondary education. Help is also offered to connect students to their new post-secondary communities and the resources offered on campus.
Out of 119 students supported in the 2018 senior class at Penn Treaty High School,  102 students enrolled in post-secondary education.

New Kensington CDC
Our support of the Annual Trenton Avenue Arts Fair and Kinetic Sculpture Derby enables participants in the Derby to enter for free.
Part design competition, part parade of human powered vehicles, this quirky event brings out residents by the thousands to watch riders' valiant attempts to cross the mud-caked finish line.
•
Fishtown Neighbors Association
With the vision of avibrant, thriving, and unified Fishtown, and the mission to connect Fishtown neighbors, preserve Fishtown's unique character, and honor the community's shared vision for its future, the FNA conducts annual events that do just that!
Planters-At-Intersections Pedestrian Crossing Program
Meet The Neighbors Annual Cook-Outs
Neighborhood Cleanups
Summertime First Fridays at the New Kensington CDC Garden Center
Flower Power Competition
March Madness Competition
Fishtown Spelling Bee
Fish Head Trash Cans
Ceiba
Each year over five hundred residents are served by Ceiba's financial education workshops, housing counseling, and other tax preparation related activities.
In 2018, the one hundred forty-two District tax returns prepared by Ceiba resulted in:
$247,766 in federal and state refunds
$99,677 in EITC (Earned Income Tax Credit)
$56,846 in Child Tax Credits
$28,400 in saved tax preparation fees
In total, these workshops put $276,166 in the pockets of people in the community. Conservatively,  tax refunds filed by Ceiba's free tax preparation services resulted in an injection of $317,591 into the economy of the PTSSD.
Kensington Soccer Club
Youth soccer is enormously popular in the United States, but less so in Philadelphia and other urban areas, where financial and transportation issues make the sport forbidding to many kids. Kensington Soccer Club works to eliminate barriers to participation by bringing quality coach-mentors and accessible programming directly to the children who need it, regardless of their home circumstances.
With programs at Moffet and Hackett Schools, and at Towey Recreation Center as well as Saturday Intramural games, the club uses the nationally recognized Soccer For Success curriculum that incorporates health/nutrition education, anti-violence components, and mentorship along with fun soccer activities designed to build skills and teamwork. The program also trains players to become future assistants, coaches, and ultimately mentors.
Overall, more than 100 children from schools, playgrounds, and recreation centers that are in, or draw from, the District participate.
Olde Richmond Civic Association and the 26th District Police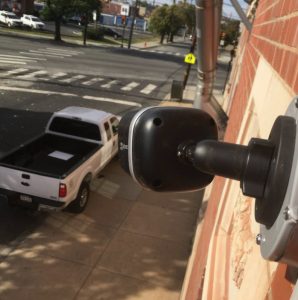 To stem the rise of crime in the neighborhood, ORCA partnered with the 26thDistrict to launch the Safe Streets Camera Installation Projectin which 200 cameras were mounted in homes and businesses. The results were a 50% cut in crime.
The Light Bulb Incentive Programprovided free motion-detection bulbs for residents' homes.
In addition, 250 families received Thanksgiving meals, and 170 bikes were distributed at the Annual 26thDistrict Christmas Party.
•
Northern Liberties
Neighbors Association
For more than 40 years the NLNA has been the engine at the heart of the Northern Liberties neighborhood.   Its mission is to bring neighbors together and advocate for the community.
Two major community resources enable the Association to realize this goal. Through its recently renovated and expanded community center the Association conducts a wide range of programs designed to enhance the quality of life in the neighborhood.  At Liberty Lands, a park acquired by the NLNA more than 20 years ago, and often referred to as the jewel of the neighborhood, neighbors have the opportunity to relax in an open green space, enjoy a children's playground, or attend one of the many events held there during the year.  The Penn Treaty SSD has provided critical funding enabling the NLNA to improve and expand both the community center and Liberty Lands.
With these resources, and the continuing support of the Penn Treaty Special Services District, the NLNA sponsors the following annual programs:
Operation Santa
The Spring Flea & Music Fest fundraiser
Fall and Winter Children's Festivals
Winterfest, a neighborhood bowling party & fundraiser
E-Waste and Christmas Tree-Cycling Events
•
Friends of the Doughboy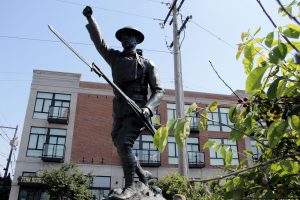 After years of advocacy to restore Over The Top, the WWI Doughboy statue in Northern Liberties, the bayonet and stolen plaque have been replaced. The names of the 400 soldiers from the missing bronze plaque were provided by Charles and Mildred Vessey. Mildred's father, Charles Burg, was a WWI Vet and had attended the original ceremony in 1900. He told his daughter to keep the program because, "Someday someone will want those names!"
Lutheran Settlement House
In 2014, LSH was awarded a grant to help renovate an existing kitchen into a teaching kitchen and expand their Food Pantry programs. The kitchen has been used to educate seniors and the public about cooking fresh produce. And, then came COVID-19 when traffic at the Pantry increased 300%.
During times of crisis and transition, people rely on Lutheran Settlement House as a place where they can find safety, community, and hope. Basic needs are met—food, shelter, safety—while work with our counselors and social workers help people heal from the trauma they have experienced. Our integrated services help ensure that a client at Lutheran Settlement House receives the help and support they need, all under one roof.
Penn Treaty has supported Lutheran settlement house since 2009.
See more organizations that have been supported over the years on our Recipients page.

—