PENN TREATY SSD STATEMENT ON COVID-19 HEALTH CRISIS
During this difficult period facing our nation and our city, Penn Treaty SSD is ready to respond to the challenges facing all of us in the months ahead. We are committed to supporting our nonprofit partners, some of whom will see a significant increase in demand for services, face unplanned expenses and experience an unexpected loss in revenue. These organizations are on the front lines, providing critical services to our vulnerable and at-risk neighbors, while working to address emerging needs and protect the vitality of our communities.
Although the situation is fluid, it is becoming increasingly clear that governments at all levels will be responding quickly and dramatically, in some respects taking unprecedented actions to lessen economic hardships for individuals and businesses. Our role at the Penn Treaty SSD is not to duplicate those initiatives, but rather to support nonprofits seeking financial assistance to complement them, while preserving their own ability to remain strong and effective organizations.
In the current environment we understand the need for flexibility and timely action, and will therefore immediately implement the following changes to our operating procedures until further notice:
For requests related to COVID-19, we are suspending the standing requirement that current grantees must close out existing grants before they can apply for new funding.
For requests related to COVID-19, the board commits to taking measures to expedite review and approval.
A Grant or Sponsorship form must be completed.
Please note that while we know the impacts of the crisis will be felt well beyond the borders of the four neighborhoods comprising the Penn Treaty SSD, under our bylaws the Board can only consider funding requests for programs and services operating in the Special Services District. If you have questions, please direct them to ptssd.secretary@gmail.com.
In times such as these it is most important for communities to be resilient. For that to happen we must come together and support one another. Each of us has a responsibility and a role we can play– we are committed to doing our part.
RE-ALLOCATING FUNDS ALREADY AWARDED
We understand that this is likely to be a difficult period for many nonprofit organizations. We also recognize that some of our current grantees may believe it necessary to restructure their budgets to address new challenges that have developed, and may also wish to redirect some of the grant funds they have received from us as well.
Our policy has always been to review such requests on a case by case basis.
Should your organization desire to make a change in the spending plan we approved for your grant you must submit a request in writing, explaining the reasons for the proposed adjustments and the specific changes you want to make. You must also provide a revised budget for the grant, including your spending to date and the allocation of the remaining grant funds.
Penn Treaty Special Services District Board
(See Also: https://www.phlcovid19fund.org/covid-19/)
PLEASE NOTE:
The Board is in its summer recess (July & August)
The next available openings for a Grants Request are in

September 2020 (except for COVID-19 related requests)

.
The next available openings for Sponsorship Requests
are in September 2020 (except for COVID-19 related requests).


•




Tip: Apply NOW for FALL projects!



What is the Penn Treaty SSD?
The Penn Treaty Special Services District (PTSSD) is a nonprofit, private foundation formed by volunteers from four neighborhoods named in the Community Benefits Agreement (CBA) reached with Rivers (formerly SugarHouse) Casino in 2009. (See: Articles of Incorporation and Bylaws)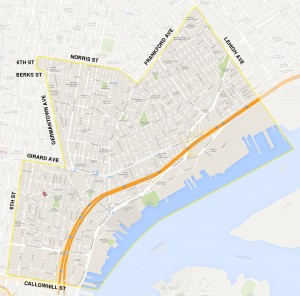 Since 2009, Penn Treaty SSD has received and distributed a yearly donation from Rivers (formerly SugarHouse) Casino to benefit residents of the four neighborhoods named in the CBA and our Bylaws. The four neighborhoods are:
Fishtown
Northern Liberties
Old Richmond
South Kensington
See a high resolution map of the
Special Services District HERE.
The Board meets to consider Grant and Sponsorship applications the third Wednesday of every month (except for July and August).
What kinds of organizations are funded
Non-Profit Public Charities
This means that you are a registered 501(c)(3), and can produce
an IRS Determination Letter with a valid non-profit E.I.N. Number.X
Community Civic Organizations
If your organization is not a registered 501(c)(3), but your mission
is charitable, you may apply with a registered 501(c)(3) fiscal partner.
See a list of our recipients HERE.
What criteria are considered by the Board
in deciding Grants and Sponsorships?
These are guidelines regarding how the Board views requests in general. In addition to the documents requested in your application, each request is reviewed and evaluated on its individual merit.
The term charitable is used in its generally accepted legal sense and includes relief of the poor, the distressed, or the underprivileged; advancement of religion; advancement of education or science; lessening neighborhood tensions; eliminating prejudice and discrimination; and combating community deterioration and juvenile delinquency.
The term educational includes the instruction or training of the individual for the purpose of improving or developing his or her capabilities.X
Projects that are financially self-sustaining are viewed favorably.


X

The PTSSD may help with initial start-up costs, but cannot commit to fund
on-going operating expenses.


X

The Board is more likely to invest in a specific one-time project
with long-term community value.


X

X

Requests must be to fund material & labor costs of the project. An undefined contribution
to the "General Operating Fund" of any organization is not generally awarded.


X

Given the limited amount of funds available, a cost-conscious budget is more likely to be considered favorably by the Board.
Salaries are not generally supported.
Grants and Sponsorships are not awarded to entities that are the responsibility of the City of Philadelphia (i.e. public schools, recreation centers). This exception was made so that City and State funding of the District would not be impaired by the perception that the PTSSD would take on this responsibility.
The PTSSD does not make Grants or Sponsorships to individuals.
Such awards would be a hardship on an individual, as it would constitute taxable income to the recipient.
IMPORTANT: The PTSSD mission is not to become a permanent source of funding for any individual organization or group. Therefore, funding received in any given year should not be seen as an indication that subsequent funding is assured.
See also: Grant Policy
What is the difference
between

a Grant and a Sponsorship?
GRANTS
Three Grants are considered at each meeting.
Grants are not subject to a dollar cap. However, be aware that at present Penn Treaty SSD has an overall budget of one million dollars to distribute over a ten-month period to as many as 30 recipients.


X

A qualifying organization may receive only one Grant per year.


•

You will be notified by email with the date your request is scheduled for consideration.
A completed application with all accompanying documents must be submitted at least ten days before that date.


X

Grant applicants are invited to come to the PTSSD Board meeting and give a 15-minute presentation about their organization and the nature of their request. A 5-minute Q&A may follow. (Please allow at least one to two hours of time if you are presenting)


X

If awarded, you MUST submit your Interim and Final Progress Reports by the dates shown on your signed Grant Agreement. Failure to do so will result in your organization's ineligibility for further awards from the PTSSD.
SPONSORSHIPS
Sponsorships are capped at $3,500.


X

Sponsorship Applications for EVENTS: Guidelines for Submittal
Applications for sponsorship of events should be submitted to the Board at least 30 days in advance of the scheduled date of the event.However, applicants are strongly encouraged to submit their requests 60 days in advance of the event's scheduled date to allow sufficient time for Board action prior to the event.Requests for sponsorship funding submitted within 60 days after an event has been held will be accepted. However, such applications must be accompanied by a letter explaining why the submittal was delayed beyond the date of the event.Applications submitted more than 60 days after an event has occurred will not be accepted for consideration by the Board.Plan Early!
Five Sponsorships are considered at each meeting.


X

Multiple Sponsorships may be awarded to qualifying organizations throughout
the year.


X

If your organization has been awarded a Grant, you may still apply for Sponsorships throughout the year.


X

Applicants are not required to present their requests at Board Meetings.


X

If awarded, a Final Progress Report MUST be submitted by the date shown on the signed Agreement. Failure to do so will result in your organization's ineligibility for further awards from the PTSSD.
Download Sponsorship Forms HERE.
APPLYING WITH A FISCAL PARTNER

If you are a private organization you are strongly urged seek an established non-profit as a co-sponsor for your Grant or Sponsorship Request.
This partnership insures that you are not taxed on the award by the IRS.
The non-profit Co-Sponsor may charge an administration fee of up to 5%. This cost may be included in the Applicant's request.


x

The Applicant may receive only one Grant per year.


x

The Co-Sponsor's eligibility to apply for their own Penn Treaty Grant or Sponsorship is not effected by any on-going Co-Sponsor partnerships.


x

Co-Sponsored Grant and Sponsorship Applications should be completed and signed by both parties, then submitted to the PTSSD Secretary.


x

The Applicant along with their Co-Sponsor are invited to come to the SSD Board meeting and give a 15-minute presentation about their organization and the nature of their request. A 5-minute Q&A may follow. (Please allow at least one to two hours of time if you are presenting)


x

If awarded, Reports are due to the PTSSD from the Applicant on the dates agreed upon on the signed Grant Agreement. If these Reports are not submitted, the Applicant is ineligible for further Requests.
The PTSSD will make a reasonable attempt to procure these reports. The Co-Sponsor is responsible for obtaining these reports, as well.
Download a Co-Sponsor Grant Request Form HERE.

Download a Co-Sponsorship Request HERE.
All Grant and Sponsorship Recipients…

Applicants (and Co-Sponsors) must sign their Agreements in order to receive their check at the next scheduled Board Meeting after the request is approved.

Unused Grant or Sponsorship Funds are to be reimbursed to Penn Treaty SSD by the date the the Final Report is due. The recipient may request to reallocate unused funds in writing. Email your request with a budget and estimates to ptssd.secretary@gmail.com

How To Apply

The first step is to download either a Grant Request Form or a Sponsorship Request Form.
If you are applying with a fiscal sponsor, you will need a Co-Grant Application or a Co-Sponsorship Application as the case may be.
Provide all of the documents, information, and signatures requested.
Include an itemized budget and at least two estimates for labor.
You can mail the request form and supporting documents to:
Penn Treaty SSD
702 N. 3rd Street
No. 38
Philadelphia, PA 19123
Digital copies can be emailed to: ptssd.secretary@gmail.com
You will be notified when your application is received. You will also be given the date that it will be considered.
The Board generally considers three Grant Requests and five Sponsorship Requests per month. The applications are scheduled on a first-come, first-served basis. The Board meets in the evenings on the third Wednesday of each month at 6 p.m. (except for July and August).
If there is no room on the Agenda for your application, your request will be scheduled for the following month.
TIP: Apply early!
Decisions to award or deny requests are made at the meeting when your request is heard. Applicants are notified of the outcome within the next few days.
All checks are released at the following month's meeting.
TIP: Allow at least three to four months of turnaround time
from the date you send us your request.
If your request is denied, you should not be discouraged from re-submitting your request (with changes), or from requesting funding for other projects.
Download Sponsorship Forms HERE.
Contact us at ptssd.secretary@gmail.com for more info.